This SF Series is Magnetron RF Sputtering System so, use for high-magnetic coating mainly and can apply properly medium or small productivity lines and R&D purpose.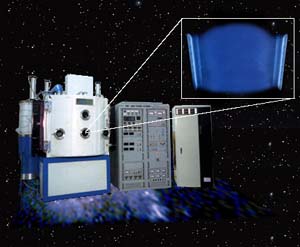 This SS Series is a high-level coating method using vacuum sputtering and this system 'never' pollute air and water compared with the previous chemical coatings.
Sputtering
SS series
SF Series
This system can operate easily and to improve the adhesive strength greatly between coating material and object material so, can apply high quality and productivity lines.
Can coat two objects at the same time because of central vertical target.
(Characteristic)
Decrease the coating time.
To remove the foreign substances easily from the product because of bias voltage.
To obtain even adhesive strength and strong bonding because of inner heater.
(Characteristic)
Because of Down Method, can set and check the product conveniently without any auxiliary tools.
To control the vacuum pressure in the vessel constantly.
The maximum 4 cathodes enable the multi-coating of different metals.
For R&D purpose we designed parallel-plate type sputtering system which use DC and RF together, and the cathodes were adopted magnetron and diode method.
Target size

4" * 3 EA

Pumping System

Cryo-Pump

Substrate size

Ф320

Power Supply

RF 600W - 2 EA, KC 1.2 KW

Heater

Mold Heater

Gas control

MFC 2 EA

Max

400℃ ~ 600℃

Heater

Halogen Heater & Mold Heater

Up - Down

80st

APC

Rotation

20 RPM

Up Sputter






---